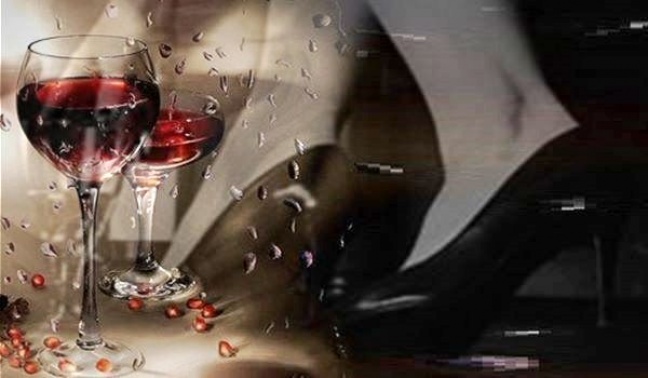 Madame du Barry powiedziała kiedyś, że szampan to jedyny alkohol, po którym kobieta wygląda piękniej. Wydaje się, że stwierdzenie to można rozciągnąć nie tylko na wina musujące, ale i spokojne. Dlatego przygotowując romantyczną kolację warto pomyśleć o odpowiednim winie, które wzbogaci i uzupełni te magiczne chwile.
Wybór win jest przebogaty, jak więc dobrać te odpowiednie, wykazując się przy tym inwencją i pomysłowością? Radzi Anna Kaliszan z BS Bohemia Sekt Polska sp. z o.o., dystrybutora win z południowych Moraw. Otwieram wino ze swoją dziewczyną…
W zależności od gustów smakowych zdecydować się można na wina białe, różowe lub czerwone. Od zawartości cukru resztkowego będzie natomiast zależeć wytrawność wybranego wina – im wyższy poziom, tym wino będzie słodsze, nawet jeżeli etykieta będzie wskazywać za jego wytrawną czy półwytrawną odmianę.
- Jeśli zamierzacie spędzić wieczór na romantycznej kolacji przy świecach, w cieple domowego zacisza, z pewnością zasmakuje wam spokojne, czerwone wino półsłodkie. Ten wykwintny trunek doskonale komponować się będzie z makaronami i ucztą serową, np. fondue – mówi Anna Kaliszan.
Takie wino najlepiej serwować w temperaturze nieznacznie niższej od pokojowej (14-17°C). Delikatna kobieta polubi z pewnością subtelny smak wina różowego o lekkim aromacie malin, jeżyn i czereśni. Jeśli na kolację przygotowujecie sałatki lub potrawy z grilla (nawet elektrycznego), to owocowe wino z delikatną kwasowością będzie stanowić idealną kompozycję.
Z kolei do rybnych frykasów pasować będzie różowe wino z czerwonych winogron, owoców leśnych i suszonych ziół. Jeśli kusi was romantyczny spokój egzotyki, na pewno zasmakuje wam białe wino o aromacie miodu i egzotycznych owoców, takich jak mango czy mandarynka, idealnie odnajdujące harmonię między słodyczą a kwasowością. Taki trunek dobrze zaprezentuje się z potrawami z drobiu, miękkimi serami pleśniowymi oraz ostrygami. Przy kolacji z ryb lub wieprzowiny, możecie spróbować także białego wina o aromacie bananów i ananasów.
Romantyczny zawrót głowy A może zamiast nastrojowego tête-à-tête, niech noc stanie się okazją do przeżycia szalonej, niecodziennej przygody? W takiej sytuacji z pewnością sprawdzi się wino musujące.
- Prawdziwie oryginalne wino musujące dojrzewa przez długi czas, dzięki czemu jego smak jest subtelny i pozbawiony jakichkolwiek konserwantów czy też sztucznych emulgatorów smaku - mówi Anna Kaliszan z BS Bohemia Sekt Polska. Bąbelki muszą być naturalne, o czym powinna informować etykieta na butelce. Kobiecie uwielbiającej czekoladę, niebiańską ucztę zapewni musujące wino z czerwonych odmian winogron – Blaufränkisch i Saint Laurent. Taki drink łączyć można także z ciemnym grillowanym mięsem.
Te z pań, które gustują w wyrafinowanych smakach powinny odnaleźć prawdziwą rozkosz w aromacie winogron z odmian Welschriesling i Green Veltliner, rosnących na słonecznych wzgórzach Palava. Te lekko kwaskowate wina świetnie harmonizują z kolacją przygotowaną z białego mięsa. Jeśli oboje lubicie eksperymentować, doskonałym wyborem będzie wino musujące o aromacie dzikich truskawek i malin, zapewniających lekki, świeży i owocowy smak.
Takie wino to uczta dla podniebienia przy potrawach z ryb, owoców morza, czy sałatek ze świeżych owoców. Doskonały smak i zabawę zapewni także białe wino z winogron Riesling z brzoskwiniowym aromatem. Niezwykle ważna jest harmonia wina musującego, którą łatwo można zrujnować przez podanie trunku w nieodpowiedniej, za wysokiej lub zbyt niskiej, temperaturze.
- Aby uzyskać pożądaną temperaturę można skorzystać z klasycznego sposobu, znanego np. z romantycznych scen filmowych, polegającego na włożeniu wina do metalowego kubełka wypełnionego wodą i kostkami lodu – dodaje Anna Kaliszan. Dzięki temu uzyska się bardzo uniwersalną temperaturę podawanego wina, a zatem pomiędzy 6 a 9 stopni Celsjusza.
Z pozdrowieniami Zuzanna Szymańska
Najnowsze od Redakcja Dziennika
powrót na górę