"Przemoc nigdy nie zatriumfuje" Wznowiono obrady Kongresu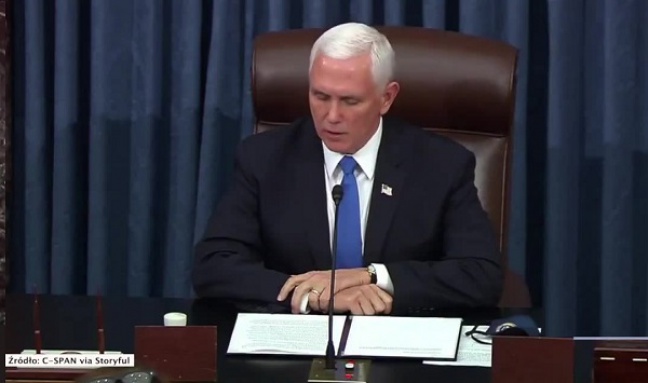 Waszyngton, USA. Przemoc nigdy nie zatriumfuje, to wolność wygrywa i to nadal jest dom narodu - mówił wiceprezydent Stanów Zjednoczonych Mike Pence w Kongresie, do którego kilka godzin wcześniej wtargnęli agresywni zwolennicy Donalda Trumpa.
Po godzinie drugiej w nocy polskiego czasu, połączone izby amerykańskiego Kongresu wznowiły prace nad formalnym zatwierdzeniem decyzji elektorów o wygranej Joe Bidena w wyborach prezydenckich.

W wyniku zamieszek na Kapitolu zginęły cztery osoby. Jedna z ofiar to kobieta, która została postrzelona w budynku Kongresu. Łącznie w Waszyngtonie aresztowano 52 osoby, a 14 policjantów zostało rannych. Funkcjonariusze poinformowali, że unieszkodliwili dwa ładunki wybuchowe - jeden znaleziony przed siedzibą demokratów, a drugi przed siedzibą republikanów.
xnews
Najnowsze od Redakcja Dziennika
powrót na górę