Wstydliwa historia USA. Statek z żydowskimi uchodźcami zawrucony do Europy. Większość została zamordowana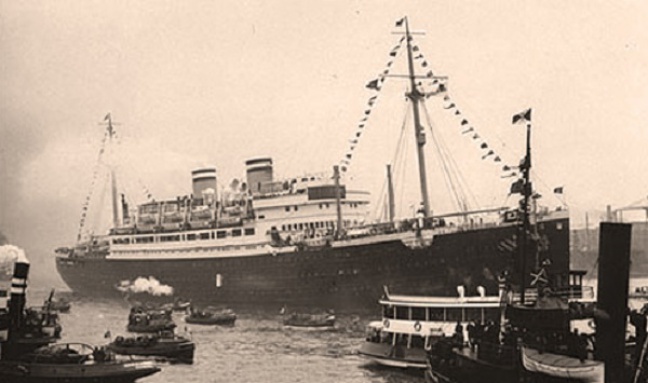 Dla 937 żydowskich uchodźców z III Rzeszy podróż statkiem "St. Louis" z portu w Hamburgu do Ameryki miała być ostatnią szansą na uratowanie przed tragicznym losem.
Za bilety w jedną stronę zapłacili majątek.
Gdy odpłynęli z niemieckiego portu poczuli ulgę. Cóż jednak się okazało, gdy statek dotarł do portu w Miami? Amerykańska straż graniczna wysłała kapitanowi jednoznaczny komunikat: "Statek 'St. Louis' nie otrzyma zgody na cumowanie tutaj, ani w żadnym innym porcie Stanów Zjednoczonych". Po kilku tygodniach tułaczki musieli wrócić do Europy.
Różne grupy interesu wypominają Polakom różne historie z czasów II wojny światowej. Niektóre z nich są zupełnie zmyślone. Inne - smutne i prawdziwe. Wśród wielu ludzi znaleźli się i tacy, co z Niemcami współpracowali, donosili czy wręcz razem z nimi zabijali. Nie zmienia to jednak faktu, że polski rząd (w odróżnieniu od np. rządu Francji) nigdy nie zdecydował się na jakąkolwiek formę współpracy z nazistowskimi najeźdźcami


Francuzi tej historii nie lubią eksponować.
To zupełnie naturalne - któż bowiem chciałby się tłumaczyć z milionów kolaborantów, którzy zdecydowali się stworzyć podległy Hitlerowi rząd w Vichy. 

Tak jak Francuzi nie eksponują historii z rządem w Vichy, tak Amerykanie jak ognia unikają historii ze statkiem St. Louis. 13 maja 1939 r. wyruszył on w nietypowy rejs.
Miał on wywieźć do Hawany na Kubie grupę 937 Żydów, którym za sporą opłatą pozwolono uciec z coraz bardziej antysemickiej III Rzeszy. Dwa tygodnie później statek dopłyną do kubańskiego portu. Tam okazało się jednak, że przez niejasne prawo dotyczące imigrantów oraz skorumpowanych urzędników, na ziemię zeszło jedynie 22 Żydów. 2 czerwca statek odpłyną dalej.
Obrał kurs na port w MiamiU wybrzeży Florydy statek został zatrzymany przez amerykańską straż graniczną. Kapitan "St. Louis" otrzymał wówczas jasny komunikat: "Statek nie otrzyma zgody na cumowanie tutaj [Miami], ani w żadnym innym porcie Stanów Zjednoczonych".
Decyzję o tym, aby odmówić przyjęcia nieco ponad 900 uciekających z Niemiec Żydów podjął ówczesny prezydent USA - Franklin Delano Roosevelt. Uznał on ich za "element niepożądany". Kluczowa okazała się obawa, że Żydzi staną się obciążeniem dla budżetu Ameryki...
Ostatnią próbę ratowania Żydów podjęto w Kanadzie. Tam również przestraszono się tego, kto utrzyma Żydów, gdy wysiądą oni na ląd. Z uwagi na fakt, że na statku kończyły się już zapasy jedzenia i słodkiej wody, jego kapitan podjął decyzję o powrocie do portu w Hamburgu.

Ostatecznie żydowskiej organizacji Joint udało się wynegocjować z rządami Wlk. Brytanii, Francji, Belgii i Holandii, że Żydzi znajdujący się na pokładzie "St. Louis" znajdą schronienie w tych właśnie krajach.
Historia wkrótce pokazała, że życie ocalili jedynie ci, którzy trafili do Wlk. Brytanii. Kilkuset pasażerów, którzy trafili do Francji, Belgii i Holandii kilkanaście miesięcy później podzieliło los innych Żydów. Wywołaną przez Niemcy wojnę przeżyło niewielu z nich.
Źródło: Stany Zjednoczone nie przyjęły żydowskich uchodźców z III Rzeszy (Wp.pl)
Najnowsze od Redakcja Dziennika
powrót na górę